Whatever your hand finds to do, do it with all your might (Ecclesiastes 9:10a)
Over the past year or so I have turned into quite the frugal mommy. Consequently, I'm always searching for inexpensive activities for the girls. In addition to being affordable, I want the activities to be fun, educational, and high quality.
Last month, my neighbor alerted me to a great activity that fits all three of my criteria. The bonus is that the activity is absolutely FREE! Lowes sponsors the Build and Grow Clinic twice a month. This interactive, hands on workshop provides little ones with goggles and authentic but child-sized tools, and allows them to work on a real, albeit miniature, construction project.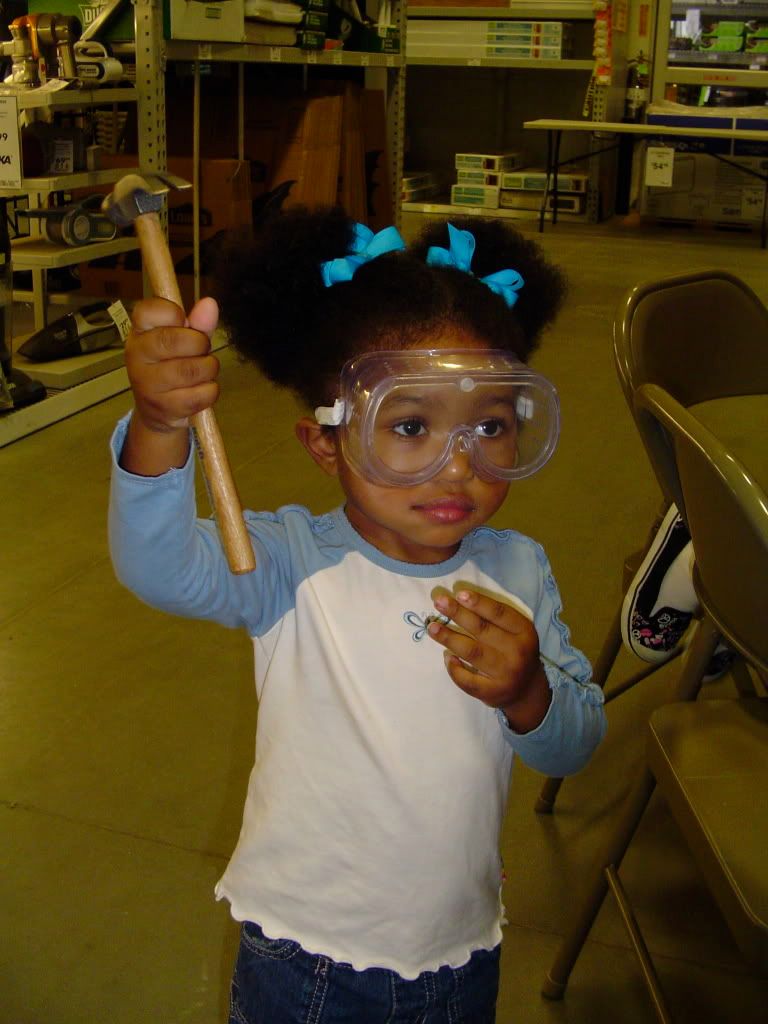 Because it rained on the Saturday we originally intended go to pumpkin picking at the farm, the girls were disappointed and still wanted to get out and play. In order to prevent a sad, sorrowful Saturday, we headed over to Lowes to enjoy the Build and Grow Clinic. Sugar Plum was too young to complete the craft, but she seemed satisfied wearing goggles and waving a hammer. (As you can see, adult supervision is most definitely required!)
I was impressed by the entire workshop. The friendly Lowes employees were patient with the children and did a fantastic job of helping the young builders handle their tools safely and properly. In addition to being great fun, the program offers a few awesome extras as well. Each child receives an official Lowes apron, earns a sew on patch for their apron after completing the project, and leaves with a certificate verifying the successful completion of the project.
Sugar Plum is too young to "officially" participate, but JT and I agreed this would be an excellent Daddy/daughter activity for he and Sweet Pea. If you're looking for something new and different to do with your child, venture off the beaten path and take a trip to Lowes. The Build and Grow Clinic is fantastic!
© 2008, Andrea Thorpe. All rights reserved.